#FeatureFRIYAY December: Our Top 10 Features of 2020
Posted On 29/12/2020
What a year it has been.
It's safe to say that 2020 turned out nothing like any of us expected. However, we look back gratefully. Thanks to your continued support, our platform has grown tremendously in the past year.
To kickstart the new year on a positive note, we're ending 2020 in celebration. Thankful for what we could achieve together with all of you! 🙏 Let's look back at what 2020 brought for Cumul.io.
Our Top 10 Favorite New Features of 2020
Are you impatiently waiting to end 2020, and start the countdown to the new year? We get it. To start practicing, we've made our very own Cumul.io countdown. From 10 to 1, we're counting down a hand-picked list of favorite new Cumul.io features launched in 2020.
*Disclaimer: This list was assembled and ranked based on feedback from clients & the team. It may contain a little bit of bias – we just really love the cool new stuff we've worked so hard on building! Did we miss a feature you really liked? Let us know in the comments. 🔥
10. Smoother dashboarding in the Dashboard Editor
Throughout the year, we've pushed multiple updates to our dashboard editor. Whether it's new customization options or additional data types supported in charts, each update has the same goal. We want to make your dashboarding life easier. Out of the whole bunch, we picked our 3 favorites:
The editor became available in Dark Mode – spooky! 🦇
Bulk actions for dashboards & datasets – yay for sharing datasets with new users in 1 click! 🎉
Customize your charts even more – set font sizes, background color of tooltips, adapt line height,… 🎨
9. Set Timezones in Cumul.io
Serving users in different timezones can be a pain. You want to make sure the data on your dashboard reflects the timezone your user is currently in. We heard you, and added a new time zone feature. Now, you can easily set timezones and make sure your date-time data are shown correctly, anywhere across the globe.
To learn more about setting up timezones, check out our webinar on Timezones in Cumul.io.
8. Easier data connections & faster dashboards
Data connection is where your dashboarding journey starts. We've launched a number of updates to our plugins & database connections, resulting in:
An easier process to connect your data;
Faster loading time of your dashboards;
To make connecting data easier, you now can edit any existing database or plugin connection with ease. Update your account credentials via API, or in our UI, whichever method works best for you. Adapt the base URL of your plugin, or even send customized error messages to help your users in their connection process!

To get lightning-fast dashboards, we made it possible to send the 'full filter context' to a plugin. This considerably limits the amount of data you have to send in your request. In addition, you can now use materialized views from PostgreSQL directly in Cumul.io, which enormously improves performance.
7. Version History
Are you worried about messing up your in-production dashboards when you need to make changes? No more! With version history, you can easily restore and publish versions of your dashboards in Cumul.io. It has lots of advantages for different use cases:
Access and restore previous versions of your dashboard;
Protect in-production dashboards with published versions;
Use dashboard versioning for easier deployment
Especially when integrating dashboards into your application or website, versioning lets you easily make changes in draft, and publish them to your in-production environment. To learn more about version history, check out our webinar on Version history in Cumul.io.
6. New & improved chart types
When it comes to our inventory of charts, our users were particularly excited about the major revamp of 2 heavily used chart types:
Freshen up your numbers with cool layout options such as background images, emoji or icons. Or get more out of your pivot tables with interactive filtering, sorting, row & column limits,… Even turn it into a full-blown heat table with conditional formatting!
In addition, we added a completely new chart type! Have you tried out our new speedometer chart? Use it to visualize your performance against a specific target range. Especially our clients in manufacturing love it: it's perfect for visualizing sensor data.
5. Angular & React libraries for Cumul.io dashboards
Embedding dashboards became even easier this year! In 2020, we launched 2 new components for integrating a Cumul.io dashboard into any existing web application. Next to our vanilla embed.js script – which works within any application – we now have additional 3 libraries available for some of the most popular frameworks:
If you're not using the libraries yet, you can find all the repositories on GitHub or check out our Integration Course on the Academy.
4. SQL Datasets
This update was particularly appreciated by our more tech savvy users. We added SQL datasets to Cumul.io: a way to create and manage database views in Cumul.io, instead of managing them in your database.
This is especially useful if you know SQL, but you're on the business side of things, or you don't have access rights to the production databases. From time to time, you just really want to craft that specific query that's sent to your database, and use all the power and expressiveness its SQL dialect provides. And now you can, without bugging your IT department!
If you haven't tried it out yet, have a look at our SQL datasets webinar to get started.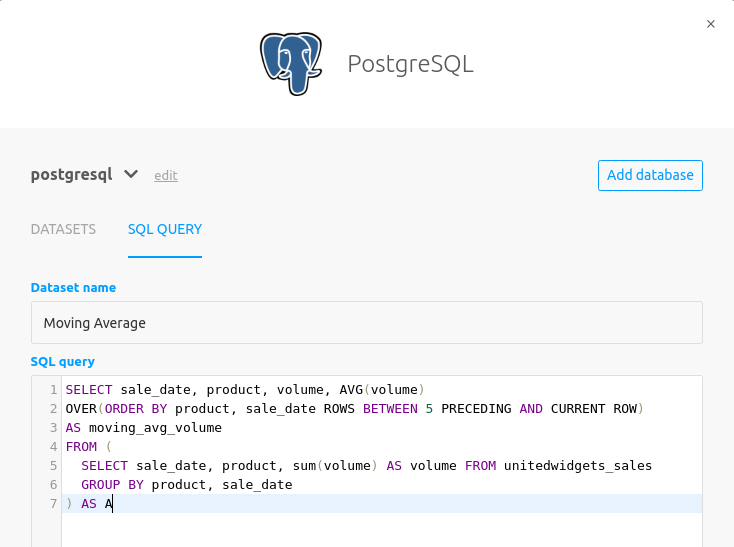 3. More possibilities with our Integration API
One of the things our users love most about the platform is its powerful API. Any action in the user interface can be automated via the API… and much more! In 2020, we've added a range of new functions to our integration SDK.
First of all, we added new API functions, including 'reloadDashboard', 'refreshData', 'getFilters', 'getData', and 'exportDashboard'. These are extremely useful for setting up a deeper integration with your own application. For example, to trigger an action in your integrated dashboard which is then sent to your own platform, or to create dashboards on-the-fly.
Single-tenant use cases also became more intuitive thanks to dynamic overrides. So, if you're using 1 separate database, schema or table per client, you set overrides on these database elements per authorization token. To learn more about this setup, check out our developer documentation on account overrides.
2. Custom events
During Data Talks, our attendees voted 'custom events' as their favorite new feature of the year. Custom Events are a way to trigger an event (or action) from your dashboard, to be used in your own application.
The possibilities are virtually endless, and that's what we love so much about this feature! Trigger an email based on a selected segment in your dashboard, drill through to another dashboard that displays more in-depth statistics on a specific selection,…
To see how this works, have a look at our cuMusicalio app. It's a demo application that visualizes your favorite Spotify songs, and lets you to add a song to a new playlist, straight from within the integrated dashboard itself. All powered by custom events, you'll love it!
1. Portal
And then finally, our favorite new feature of the year: the Cumul.io Portal. Why does it deserve the #1 spot? Because it's the perfect representation of where Cumul.io is heading. We want to make data insights available to anyone, as fast as possible, and as easy as possible.
With our new Portal feature, integrating a dashboard becomes an entirely no-code experience. You don't even have to develop your own app or portal anymore. Create a dashboard with drag & drop, add it to our out-of-the-box reporting portal with just a few clicks, and set up access rights for different users so they can only see the dashboards they have access to. All without writing a single line of code!
Reporting towards clients & stakeholders was never as easy. And we're aiming to make it even easier in 2021 – stay tuned!
What else was new at Cumul.io in 2020?
Our goal is to support you with reporting & analytics for your platform in the best way we can. Apart from new features, we continuously work on new resources to keep you up-to-date and to support you in your everyday dashboarding. Some items that are new since this year:
In addition, we received a bunch of support from our clients, partners & investors this year:
Thanks to customer reviews, Cumul.io strengthened its position in the embedded BI landscape, being a High Performer on G2 4 times in a row!
We raised a new investment round of €3.5M, to support & accelerate the growth of our platform even further.
A big thanks & shout-out to all of you: you are helping us to shape the future of embedded analytics! While looking back at 2020, we get even more excited looking forward to what's next. Expect more integration features, a new query engine with unparalleled speed, an integratable dashboard editor and much more to come in 2021! 🎆